This PTO serves the two schools of Cold Spring School & Swift River Elementary School.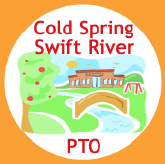 To learn more about the CSS/SRE Parent Teacher Organization,
---
Cold Spring School Box Tops for Education
1

Find Box Tops on hundreds of products.

2

Clip Box Tops from each package.               

3

Send the Box Tops to your school.

4

Box Tops are each worth .10 for your school.

the 

participating Box Tops products.